U.S. crude futures fell as low as $45.20 yesterday, the weakest level since May 5, following a surge in U.S. inventories and the return of more Nigerian crude to the market. Even with this in mind, we believe the fact that OPEC and its partners extended their agreement for another nine months will keep the oil market in deficit and help accelerate the decline of inventories during the rest of the year. As a result, we see limited further downside from current levels.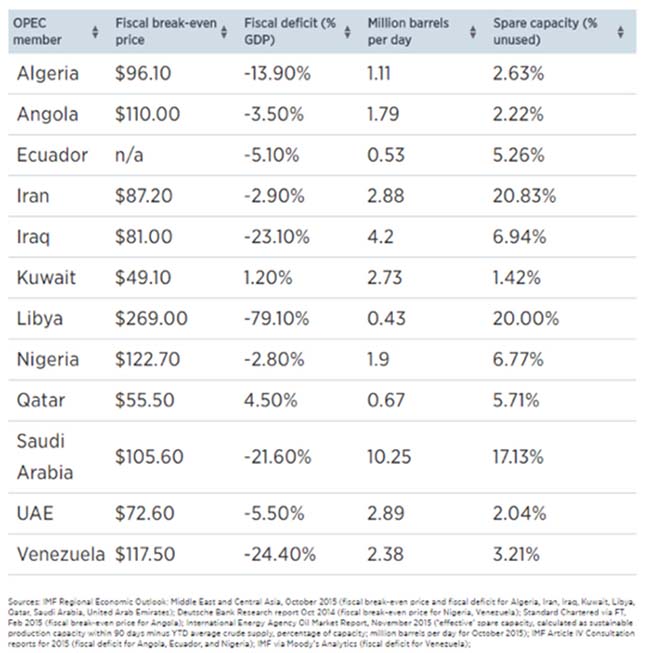 Furthermore, as the table below shows, current oil prices are still too low to sustain the budget of every single OPEC member. As a result, they are burning through their foreign currency reserves which increases pressure on the oil cartel to extend the agreement for a longer period.
Our Stocks
Below you will find some high level information on the stocks that we currently have exposure to. Attached to this report, you will also find research from JP Morgan on the three stocks. We echo the views of JP Morgan and have a hold rating on all three stocks.
Whiting Petroleum (price target of $12)
Focus on shale gas exploration and production in the US
management concentrating in economical wells, and disposing non-core assets
Analyst recommendations: 35% Buy, 57% Hold, 8% Sell
Debt/Assets 36%, Debt/Common Eq. 69%, EBIT/Int. Expense -1.5
Heavily impacted in EPS, though turning the point
Cash flow impact more moderate
Manageable debt
Precision Drilling (price target of C$10)
Offers drilling services, mostly Canada
Analyst recommendations: 62% Buy, 33% Hold, 5% Sell
Debt/Assets 44%, Debt/Common Eq. 97%, EBIT/Int. Expense -1.1
Ancillary sector less sensitive to oil prices that has probably seen the worst in terms of cost cutting from its clients
Turning the page in EPS and CF
Manageable debt
Tullow Oil (price target of £2.45)
Exploration and production, mostly in Africa
Analyst recommendations: 44% Buy, 44% Hold, 11% Sell
Debt/Assets 46%, Debt/Common Eq. 224%, EBIT/Int. Expense -4.5
Most sensitive to swings in oil price due to less predictable cash flows and high leverage
Focus in on-shore areas where production is economical
Summary
Weakness in oil continues but with shrinking inventories and seasonal demand coming into play, we believe there is little room for further weakness and the oil price will show signs of recovery in Q3 and Q4 of 2017. We recommend to hold all three stocks at this time.